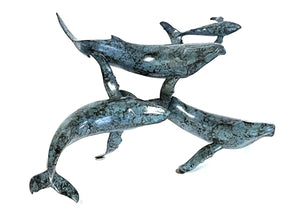 Bronze Sculpture - Unison - 4 Whale Sculpture Size: 15"h, x 17"w, x 21"l
Name: Unison  
An active group. 1 escort, 1, challenger, 1 mother and calf.
Size: 15"h, x 17"w, x 21"l
Doug is considered an expert in the form, detail and behavior of his subjects. His expertise is evident in this magnificent sculpture, as this piece is created in a way that is both accurately portrayed and artistically appealing.
Doug designed the original artwork in clay, then a fine art foundry reproduced it using a multi-step procedure called "lost wax" investment casting. Each whale is constructed individually and each step, including molding, pattern making, investment, pouring, tool, assembly, and patination, is done by hand. 
Call or text us at 916-213-7457
Doug Wylie is truly a one-of a kind designer. 

One look at Doug's art and you will be fascinated by playful & joyous poses--whether in accurate representation in natural habitat or a motion-influenced interpretation of behavior.