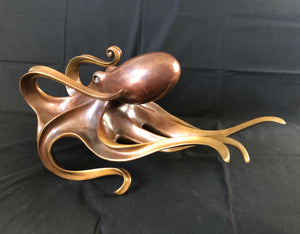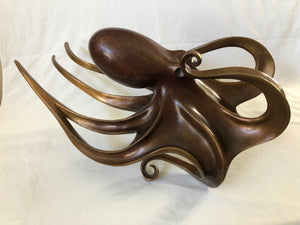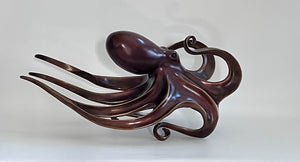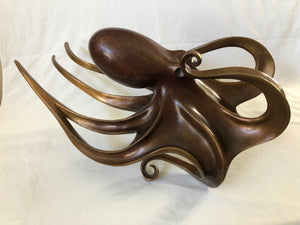 Bronze - Octopus - HOPE 14"h x 27"w
Hope is Doug's latest piece of marine life art. It is a limited-edition bronze sculpture and there are only 20 in the edition. They are going fast, so get yours while they last.  
Designed in 2020, Hope is 14" tall and 27" long and is absolutely beautiful. 
Each of the 20 limited pieces are monitored through the foundries many phases of the bronze making process.
Each piece will vary slightly in color based on final foundry finishes.
 When COVID 19 closed our studio doors to the production of Doug's ceramic line of art, the world of time and creativity opened up for Doug. To an artist, time is where creativity flows from. It was a time of despair, yet all we could do was HOPE.
HOPE is more than just a Name: It replaced despair.
H - Healthy...      happy, harmonious, helper
O - Optimistic...  open (to change), offer (help)            
P - Passionate...  patient, peaceful, present
E - Enchanting... elegance, everlasting, excitement, energy
With an image in mind, Doug's hands began to mold the clay, as though the images were flowing through his fingers with his eyes closed.
In love with this sculpture? Great! Place your order today.
Available

We will also consider a payment plan that would secure your purchase. 
Call or text us at 916-213-7457